Sounds from the Stadium 5th July 2016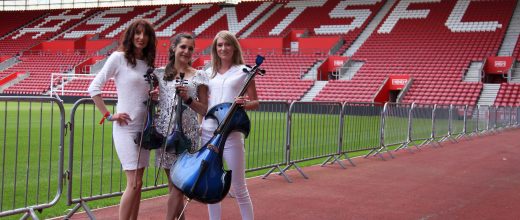 On Tuesday 5th July, we had the pleasure of performing at St Mary's Football Stadium with thousands of children, CJ Edwards and the Southampton Youth Orchestra, in collaboration with the Southampton Music Hub and Bournemouth Symphony Orchestra.
The children had been learning their instrumental and/or vocal parts to Clean Bandit's Rather Be, Cheerleader, I Got Bills and Run Boy Run for the past few months so that they could perform these together with us and CJ Edwards.
The sun shone for us and we all had a fantastic day!
We were delighted to feature on the BBC's South Today – here is the link to the programme:
https://www.facebook.com/BBCSouthToday/videos/1074533182637271
Photos by Toni Cavallo of speedy pix. www.speedypix.com/cordelectra