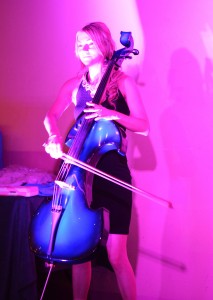 We were delighted to be performing at the Cystic Fibrosis Autumn Ball which our cellist Debbie organised.   This was held on Saturday 18th October at The Concorde Club.
We performed an exhilarating set including Kashmir, Palladio, Feeling Good and Children by Robert Miles to the 270 guests whilst they taking their seats. Ian Christie and Martin kindly provided our sound and lighting for the performance.
The evening was an amazing success and raised over £41,000.00 for the Cystic Fibrosis Trust and the Adult Cystic Fibrosis Unit at the Southampton General Hospital – charities very close to our hearts!
We even auctioned a performance which was bought by one of the event sponsors, Orega.
Well done to Debbie and The Team for all the hard work put in!
Thank you to Ellie at Studio 22B for your photography!